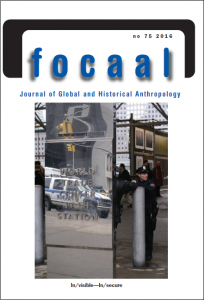 We are pleased to announce that the latest issue of Focaal – Journal of Global and Historical Anthropology has recently published and is available online at its new home, www.berghahnjournals.com/focaal.
This issue's theme section, titled "In/visible—In/secure" and guest edited by Ieva Jusionyte and Daniel M. Goldstein, illustrates the multiple and shifting intersections of in/visibility and in/security in today's security-minded world and also reminds us of the unique contributions that anthropology can make to the critical study of security. The editors' introduction is available to all readers for free.
Focaal 75 also includes a regular articles section, which features a freely available Open Access article by Judith Bovensiepen, and a forum piece by Katharina Bodirsky on politically organizing subjection in the contexts of current EU-Europe and Turkey. As always, forums are freely available to all readers.
---

Volume 2016, Issue 75: In/visible—In/secure
Guest Editors: Ieva Jusionyte and Daniel M. Goldstein
THEME SECTION
In/visible—In/secure: Optics of regulation and control
Ieva Jusionyte and Daniel M. Goldstein
Intimidation, reassurance, and invisibility: Israeli security agents in the Old City of Jerusalem
Erella Grassiani and Lior Volinz
Sensing evil: Counterterrorism, techno-science, and the cultural reproduction of security
Mark Maguire and Pete Fussey
The correct secret: Discretion and hypertransparency in Chinese biosecurity
Katherine A. Mason
Performing humanitarian militarism: Public security and the military in Brazil
Stephanie Savell
ARTICLES
Visions of prosperity and conspiracy in Timor-Leste
Judith Bovensiepen
Forgotten moralities of agrarian economy in Bali: Production and exchange, business and friendship
Graeme MacRae
The everyday politics of India's "land wars" in rural eastern India
Kenneth Bo Nielsen
FORUM
From the "state-idea" to "politically organized subjection": Revisiting Abrams in times of crisis in Turkey and EU-Europe
Katharina Bodirsky
---
Recommend Focaal to your library
As a key researcher in your field, you can recommend Focaal to your library for subscription. A form for this purpose is provided on the Focaal website here.