Caterina Pasqualino is an anthropologist whose research within the realm of Gypsy flamenco for the past twenty years has culminated in her seminal book Flamenco Gitan. Her interest in performance and ritual and their relationships with experimental film—explored in the book she co-edited with Arnd Schneider, Experimental Film and Anthropology—has led her to begin exploring her practice through the language of experimental film.
Following a meeting with Chiara Ambrosio—a filmmaker, visual artist, and flamenco dancer—the two have decided to develop a film together to explore the role of the "outsider" and of suffering within art and, more specifically, within the space of flamenco.

The film, Tending to the Garden, will explore the contradictions, silences, and unspeakable emotions that lie at the source of flamenco and the artistic process in a historically ­­­complex and wounded city like Granada.
---
Caterina: As part of a university project on the role of suffering within the artistic process of creation, I have been asked to make a film about the relationship between the experience of suffering and flamenco culture.
Chris Wright of Goldsmiths College, London, suggested I could collaborate with you, Chiara, not only because you are an artist and a filmmaker but also because you are a flamenco dancer.
Chiara: The first time I saw (Manuel Santiago Maya) Manolete, he was perched on a stool by the table of an empty bar in the Plaza Larga of the Albayzin. It was the end of July 2014, and in the almost tropical heat of the afternoon, he was drumming an oblique and syncopated rhythm incessantly with his fingers on the surface of the table, whilst sipping from a glass of whiskey, his beautiful baston (walking stick) leaning against his elegant, small but powerful frame.
His piercing black eyes were scanning across the still empty space, holding everything in their gaze, absorbing every movement and presence and transmitting it to his bones and muscles, as though his body was a resonating chamber for all that chanced to pass around him.
Manolete crosses through space like a knife tearing through fabric, his taut body and sharp eyes in direct communication with an elsewhere, tending to a displacement that transforms his physical presence into a radical question…
Caterina: In May 2015, at the same café, we met Manolete again, the well-known flamenco dancer from Granada. Like you, I felt the presence of his eyes and body in a constant magical relationship with the space around him. That encounter with Manolete made me recall the flamenco expression Decir el cante (literally translated, "to say the song"), which  suggests that to sing is a kind of deeper speech, vocalizing profound feelings.
If secular life is dominated by the world of speech, performed life—dancing as well as singing—is understood as a natural extension of the body in its spatial surroundings. The best way of singing and dancing flamenco would be in a low, gruff voice—the tone of confidentiality. In their public or private performances, the best flamenco artists take pleasure in suddenly interrupting a dance, and, like a sabotage to intentionally disturb the understanding of the words, they gabble and babble their words.
Gypsies say that this style of performance is part of their desire to differentiate themselves from Payo's flamenco (non–Gypsy flamenco) is to liaise with their unconventional lifestyle…
That day, Manolete also told us something painful to hear: at the time of (Francisco) Franco's dictatorship, while the majority of the population was persecuted, he—like some, but not all, of the greatest artists of the time—was enjoying special treatment, chosen to represent post-war Spain abroad. Andalusian folklore, in the form of flamenco, was appropriated and transformed into part of Spanish national identity, and deliberately exported by Franco. Manolete thus introduced us to the political conflicts between social groups within Granada, still very present in today's city: from the touristic area of Sacromonte to the poorest neighborhoods of Almenyajar and Caseria de Montejo, and right up to the richest areas, we witnessed the tensions within the town, where young, left-wing activists view flamenco Gypsies with suspicion because of their association with Franco's dictatorship, while the Gitano themselves still fight to cling onto a singular identity that has been threatened and undermined for decades.
The flamenco discourse reveals and expresses the sufferings of an individual while highlighting his position as an outsider, searching for a home, for a cure. Performance can therefore be seen as a kind of therapy.
Chiara: The voice has always been connected to instances of resistance and revolt. Free speech is the first thing to be silenced in a dictatorial regime, but paradoxically it is also that thing which, despite all chains and prisons, cannot ever be completely eradicated. The voice is a sacrosanct form of expression, a primordial gesture of the body and the soul that emanates out of our depths and into our surroundings, affecting and transforming them in a profound and irreversible way. It is also the way we can express what is too painful to fully comprehend—loss and the eternal endeavor to "come home." El Parron, another one of the great Gitano flamenco artists we met on our journey, talked about the space created by his cante (song) as a theater on which everything in his life is played out and elaborated. Everything happens in the space of the song, and nothing is real outside of this space.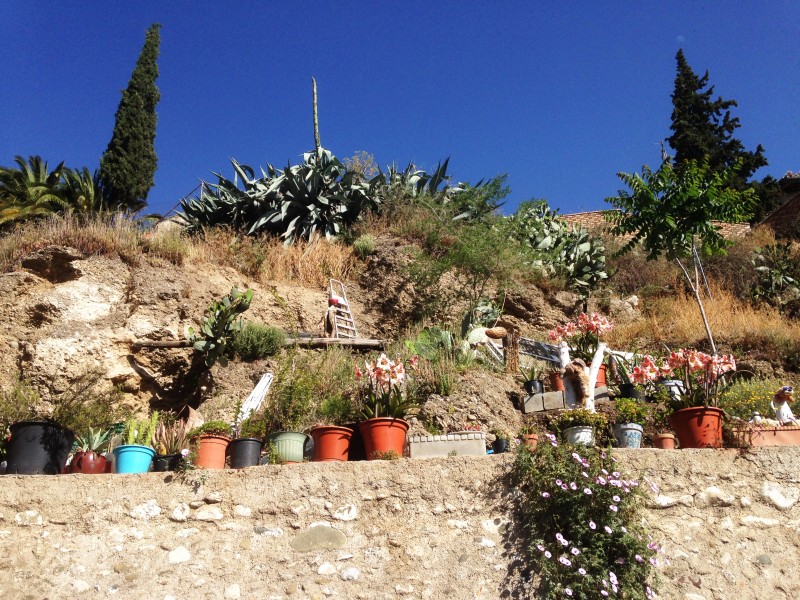 When we walked to the Sacromonte for the first time, the first thing we encountered was a curious dry garden climbing up the side of a parched cliff, facing the overwhelming green of the valley. Tending to this garden was Augustino, an Italian flamenco aficionado and tour guide, who has lived in Granada for fifty years. Himself an outsider, he appeared to be as weathered as the land he was trying to grow. Talking with him, we were immediately introduced to all of the contradictions and conflicts inherent in the landscape of the city, and flamenco in particular. As an outsider, he sees everything but partakes in nothing except the growing of his garden.
This image of a constant gardener became a fertile metaphor for us: how could we frame our conversation on the relationship between art (flamenco in particular) and suffering, both personal and collective (skirting inevitably along the edge of a wider argument about the condition of the artist as an outsider) within the walls of this curious garden, growing against all odds as a radical act of resistance?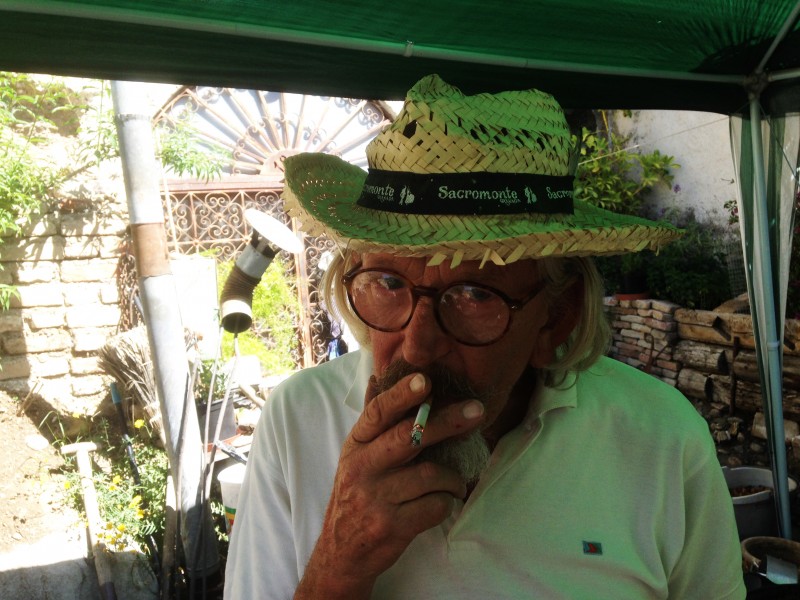 Caterina: We are confronted by the problem of how to film radical acts of resistance in flamenco culture. We want to make our spectators feel the similarity between the action of the constant watering and that of the unrelenting practice of singing and dancing: strenuously, both replant seeds of things to say, giving voice to the surviving.
How can we keep a formal simplicity in the filming while exposing, through the lens of flamenco, individual courses of life, memories of the civil war, and economic and social problems? We have decided to film within the frame of spatiality, Augustino's garden, and within the frame of temporality, the duration of a day, from sunrise to sunset. By means of a fictional device, we will ask the participants to walk beside (or possibly through) Augustino's garden, where some of the encounters will take place. We wish to compress elements from these recordings that we think are constitutive of the participants by rerecording them. During these rerecordings, we will ask the participants to say again what they said perhaps rapidly the first time we met or what could be difficult to say. Can staging a performance help to point out the past, reconstituting personal and social wounds? What if, instead of analyzing, we make the actor "alive"—replaying his own feelings?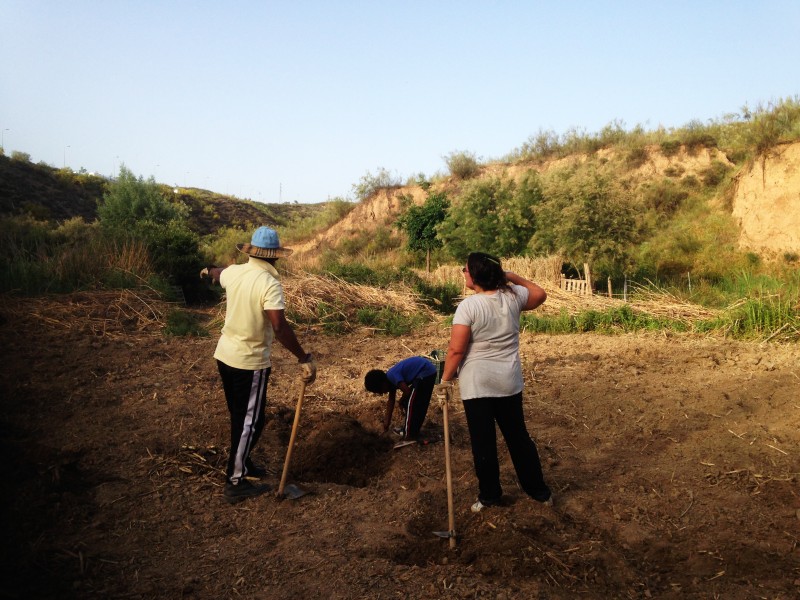 Although the unhurried mood of Augustino's parched garden will be reflected in the majority of the film, at certain times other locations, including a vegetable garden in the suburbs and the poorest headquarters of the town, will come to life by insertion.
In the poorest headquarters of the town, we will collaborate with Antonio Amador. The intriguing thing is that this Gypsy, who will act in our film, makes homemade fictions for his own pleasure in which he involves his family and residents of his neighborhood—keeps them occupied because the majority of them are unable to find a job. We hesitate about the nature and the dimension of this collaboration, but a possibility could be to insert a small extract of one of his films in ours. Collaborations are important for anthropology…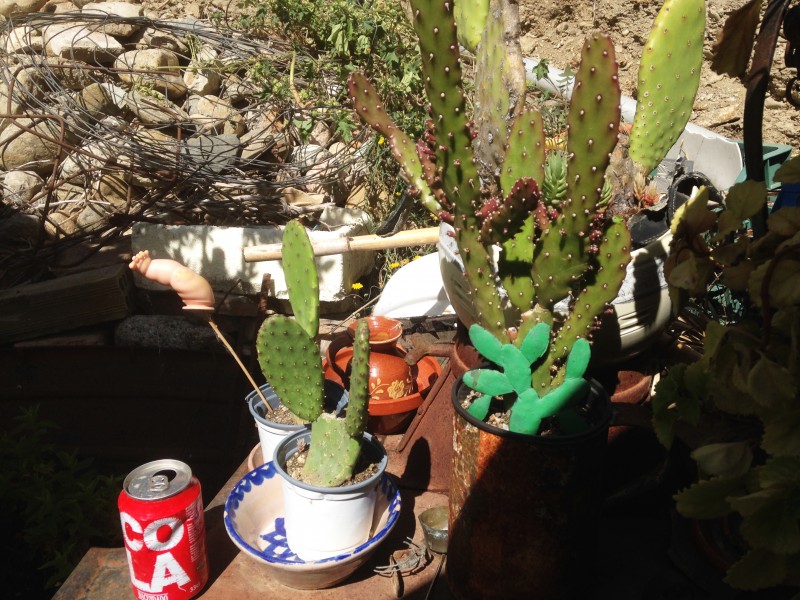 Chiara: There are many ways to tend to a garden, in the same way as there are many gardens, real and metaphorical, that need tending to. Some are permanent, some grow against all odds and only last one day, some need to be burned to the ground before they can begin to grow again. Within the boundaries of this metaphor, we intend to sow rebellious, defiant seeds, the seeds that travel airborne across lands and epochs; those conversations that, no matter how deeply buried, still sprout into roots and tendrils that will eventually reach the surface and bloom once again.
Held within the steady gaze and presence of Manolete, within the resonating space of the deepest cante jondo (deep song), in the soil of Augustino's garden or in the rugged hands of a survivor of the civil war, the seeds we intend to plant with our film are the ones that still haunt the dense Spanish air, looking for a home to set root once more.
---
Chiara Ambrosio is a filmmaker working with animation, experimental film, documentary, and sound to explore the ways we perceive, remember, articulate, and preserve personal and collective histories and place through the filter of memory and the imagination. Her work stems from an interest in the moving image as a tool through which to experiment with the boundaries of time and space, both conceptually and physically, re-enchanting the experience and perception of reality through an encounter between the poetics of the real and the erratic and subversive language of dream and the imagination. Her most recent work "La Frequenza Fantasma" (The Ghost Frequency), a feature film developed and filmed in a village in the South of Italy, is directly involved with specific locations and communities as the starting point for a process-based inquiry into the relationship between people, place, and memory.
---

Bibliography
Pasqualino, Caterina. 2005 Ecorchés vif. Pour une anthropologie des affects. 
Systèmes de pensée en Afrique noire
 17: 51–69.
Pasqualino, Caterina. 2008. Flamenco gitan. Paris: CNRS éditions (réédition en poche de Dire le chant. Les Gitans flamencos d'Andalousie, EHESS-CNRS, 1998).
Pasqualino, Caterina. 2009.  Voix d'au-delà: Du rituel à l'art contemporain. Actes du colloque Performance, art et anthropologie, Musée du Quai Branly, Paris, 11–12 mars.
Pasqualino, Caterina. 2013. In praise of slow motion. In Arnd Schneider and Christopher Wright, eds., Anthropology and art practice. London and New York: Bloomsbury.
Pasqualino, Caterina. 2014. Vocalisation of suffering. Pp. 99–120 In Ratiba Hadj-Moussa et Michael Nijhawan, eds., Suffering, art, and aesthetic. London: Palgrave Macmillan.
Pasqualino, Caterina, and Arnd Schneider. 2014. Experimental film and Anthropology. London and New York: Bloomsbury.
Filmography
Pasqualino, Caterina. 2001. Le pèlerinage gitan de Fregenal de la Sierra. Estrémadure, film vidéo de 30 mn. Fregenal-Paris octobre 2000-avril 2001.
Pasqualino, Caterina. 2003. Des chants pour le ciel. Les saetas des Gitans d'Andalousie. Espagne, CNRS Images et Centre National de la Cinématographie,  film vidéo de 52 mn.

Pasqualino, Caterina. 2009. Bastian et Lorie. Notes sur le chant et la danse flamencos. Paris, CNRS, film vidéo de 20 mn.
---

Cite as: 
Ambrosio, Chiara, and Caterina Pasqualino. 2015. "
Tending to the Garden
," FocaalBlog, 3 August, www.focaalblog.com/2015/08/03/chiara-ambrosio-caterina-pasqualino-tending-to-the-garden.