Part I. Rage, grief and learning while walking:
Since the summer of 2014, there have been sustained protests across the United States surrounding issues of police violence, systematic racism, and the devaluation of Black life. What started as protests over the non-indictment of the white police officers who killed Michael Brown and Eric Garner, in Ferguson, Missouri, and Staten Island, New York, respectively, quickly grew into a nationwide uprising that employed highly disruptive direct action tactics. These protests are expressions of collective outrage, anger, and grief that have forced a much needed, nationwide conversation about race, racism, and the value of Black life in America. They have also become important sites of political education and experimentation as people joined together, night after night, in demonstrations of collective power and rage to "shut shit down."

In this piece, the first of two parts, I give an account of these protests from my perspective as a participant as well as a social movement researcher. Many published accounts and analyses of this moment in United States history are written from the perspective of those watching these events from afar, a perspective that often misses much of the nuance of what has been happening in the streets. Here, using an ethnographic lens, I offer an insider account of what these intense days in Oakland, California, were like—what sort of politics were being worked out in the streets and fought over on the ground.
Oakland, California: 24 November 2014
On 24 November 2014, people throughout the United States were on edge as they waited to hear the results of the grand jury investigation into Darren Wilson's killing of Michael Brown. In Oakland, California, there was palpable a sense of dread as many, especially veteran activists who had been involved in campaigns around police brutality, felt sure that Wilson would be let off. Sure enough, at around 6 p.m. that night, it was announced that Wilson would not be indicted for the killing of Brown.
That evening, after the verdict was delivered, loosely organized protests took place in almost every major city throughout the country. Organized through an open call on Facebook to "show up" at 7 p.m. in a main park, square, or intersection, thousands of people took to the streets to show their anger and outrage at the decision. People I talked to that night said they felt "depressed, outraged, and furious" but ultimately "not surprised" by the verdict.
In Oakland, people met at Frank H. Ogawa Plaza—otherwise known as Oscar Grant Plaza, in honor of the unarmed Black man killed by a public transportation police officer on New Year's Day in 2009—and held a die-in in front of City Hall. Later, thousands marched in the streets, shutting down major freeways, breaking windows at banks and coffee shops, and facing off with the police until late into the night, when the police began to shoot teargas and beanbag pellets. The emotions of this night were palpably intense—angry while also joyful and defiant. At one point thousands of protesters streamed past a police line to walk up a freeway off-ramp, stopping traffic on Interstate 580 for three hours. Weaving in and out of the halted cars on the elevated freeway, protestors chanted "fuck the police." Many drivers opened their windows, shouted their support—some playing music, like N.W.A's classic "Fuck tha Police," in solidarity—and raised their fists in the air. Others rolled up their windows and looked away. But, strikingly, no one honked their horns or yelled at anyone to move. At another freeway entrance ramp, people lifted each other over the railing, spilling onto the road. When two police officers tried to drive their cars through the crowd onto the highway, sirens blaring, the protestors swelled around them, chanting and refusing to move. The police were forced to reverse down the street as people cheered and garbage and other projectiles landed on their cars.
Later that night in downtown Oakland, I stood next to a burning dumpster that had been dragged into an intersection to be used as a barricade. On one side of me, a Black man in a wheelchair held a megaphone and publically shared experiences of friends and relatives who had been brutalized by the police. Across from him, people threw pastries into the crowd through a broken Starbucks window. There was a sense of solidarity, anger, and collective power among those on the streets that night. Finally, when the cops started shooting beanbag pellets to disperse the crowd, people stopped and helped one another, telling each other to stay calm and to leave carefully in groups.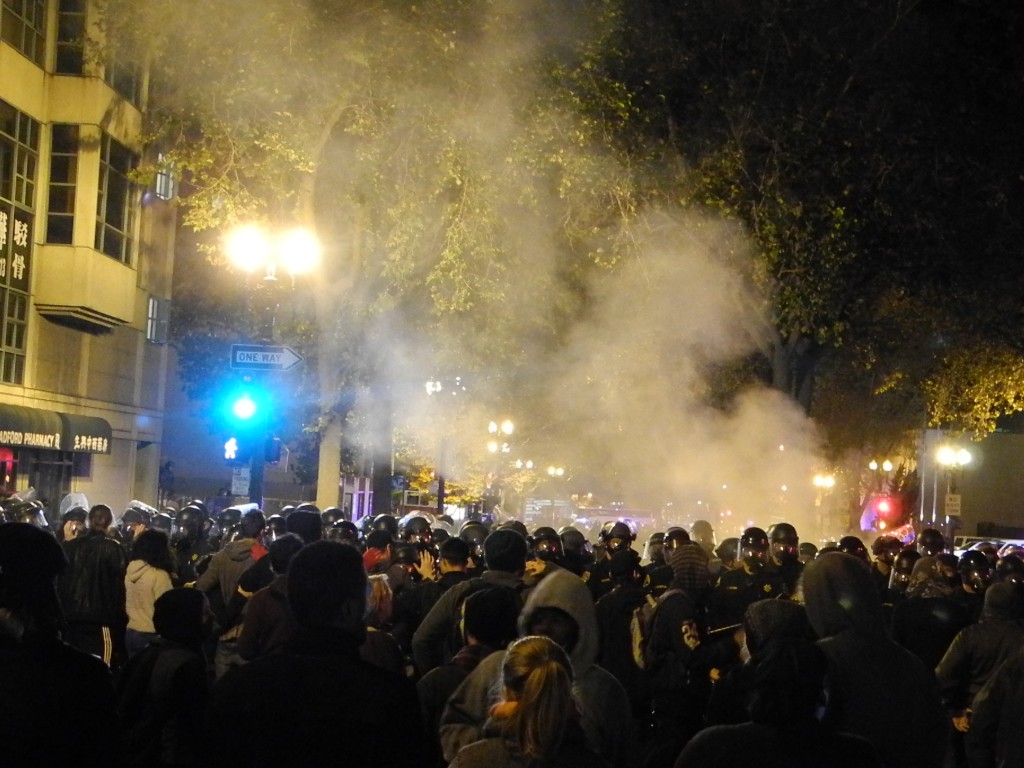 Shut it down: Street scenes
These spontaneous nightly protests continued almost every day for the next month in the Bay Area. In early December, public rage was amplified by the announcement in New York City that the police officer who choked Eric Garner to death—a blatant and brutal murder caught on camera—would walk free. As the news spread that another grand jury had decided not to indict another white police officer who had wantonly killed another unarmed innocent Black man, the protests shifted from being primarily about the death of Michael Brown to a broader message about police violence, the racist criminal justice system, and societal systemic racism. At protests, people chanted "Hands up, don't shoot" and "Shut it down for Mike Brown" in reference to Brown's killing and "I can't breathe" in reference to Garner's. In leftist circles, people started referring to the protests as "an uprising" while the mainstream media tried to make sense of them as "riots."
The nightly marches in the Bay Area remained intense, high powered, and fairly militant as protestors used direct action tactics ranging from high-risk freeway takeovers to low-risk die-ins. There were also family-friendly daytime rallies and a militant lockdown of the Oakland police headquarters, which shut down the main station for hours as people chained themselves to doors and coordinated civil disobedience arrests. In the street, people smashed bank and chain store windows on a nightly basis, spontaneous dance parties raged in traffic intersections, and protest songs were sung (in particular, "I can't breathe" with lyrics that repeat "I still hear my brother crying, 'I can't breathe' / Now I'm in the struggle singing, 'I can't leave'"). High school students staged walkouts, public defenders held a die-in on the courthouse stairs, and others organized vigils and healing spaces. One night a pickup truck was used to block an Amtrak train, stopping all circulation on that East Bay rail line for hours. People chanted "shut it down" as street after street, highway after highway, and occasionally public transportation was shut down night after night. Finding the protests was often easy because of an omnipresent police helicopter that could be heard from miles away, hovering over the protests with its bright searchlight—an easily identifiable visual and audio beacon signifying that people were on the streets again.
These protests permanently altered my geography of Oakland, Berkeley, and Emeryville. My civilian geography of these cities was superimposed with a new protest geography, as night marches, police confrontations, and smashed supermarkets remapped my sense of the city. Through planning direct actions and walking many miles alongside thousands of people, I learned which highway ramps could easily be taken over, which streets the police could use to hem us in on, and the risks of getting trapped in Emeryville parking lots. I learned in which neighborhoods people would come out of their homes to join us—children joining the marches for a block or two, chanting or riding bikes—and in which neighborhoods people would close their doors, turn off their lights, and pretend they weren't home.
One night on the streets, I ended up in a conversation with a Black teenager from East Oakland on a scooter with a boom box. While we waited for other protestors to get off a freeway on-ramp, I held his boom box on my bike as he fixed his scooter, and afterward we marched together for a few blocks. When I asked what he thought was going on and why he was out on the streets he replied, "Because they don't care about us."
Me: What do you mean?
Him: They don't care about us and there is nothing for us…Politicians don't care, the police don't care, the city doesn't care, nothing changes, we have to do something.
Me: Yeah, totally…but why now?
Him: Because they kill us like we don't matter.
Me: Where do you think all of this is going?
Him: What, this? We're going to shut shit down…This can't stop—won't stop.
In some ways this conversation cuts to the core of the sentiment of the streets in those weeks. The protests were mostly led and attended by young people of color and reflected a sense of deep disenfranchisement and anger at the criminal justice system, the political system, the city, and the system as a whole. But they also provided a space for collective processing and emotions: people cried, yelled, screamed, held each other, and told stories of their experiences of racism and friends or loved ones who had been killed or wronged by the police.
Through such collective and public acts and a shared desire to "shut shit down," protestors reclaimed the spaces of their city and got a sense of what collective power felt, smelled, and tasted like. Sometimes it smelled like a burning mattress in the middle of the road, and other times it tasted like "re-appropriated" Oreos and Corona shared with a stranger. Sometimes it meant holding someone in the crowd as they sobbed or grabbing the person next to you to turn a corner away from the police. Sometimes it sounded like broken glass and cheers when a bank window came down, or singing, or shouts of anger and complaints in the direction of the police. But it always felt complicated: a wild rush and mix of emotions—grief, exhilaration, fear, camaraderie, suspicion, and sometimes sheer awe at the beauty in streets.
During one such moment, a friend turned to me and said, "This is all so beautiful and terrible at once." When I asked what he meant, he elaborated: "The response is beautiful, but the reason we are out here is so terrible." And it was true, at many times in those weeks of constant activity, the contradictions between the grief of what we were protesting and the beauty of the response was overwhelming. These emotions were intense and unpredictable, exhilarating and exhausting at once: as people collectively processed the brutal violence of the police and the trauma of racism (what one friend described as the "death-ness" of what we were protesting), the future felt both hopeless and explosive. The sense of relief to be together in public, night after night, was a great antidote to feelings of isolation that come from dealing with brutal yet everyday racism in a society in which many people refuse to believe this even happens. And yet nightly disagreements in the streets also threatened to pull things apart.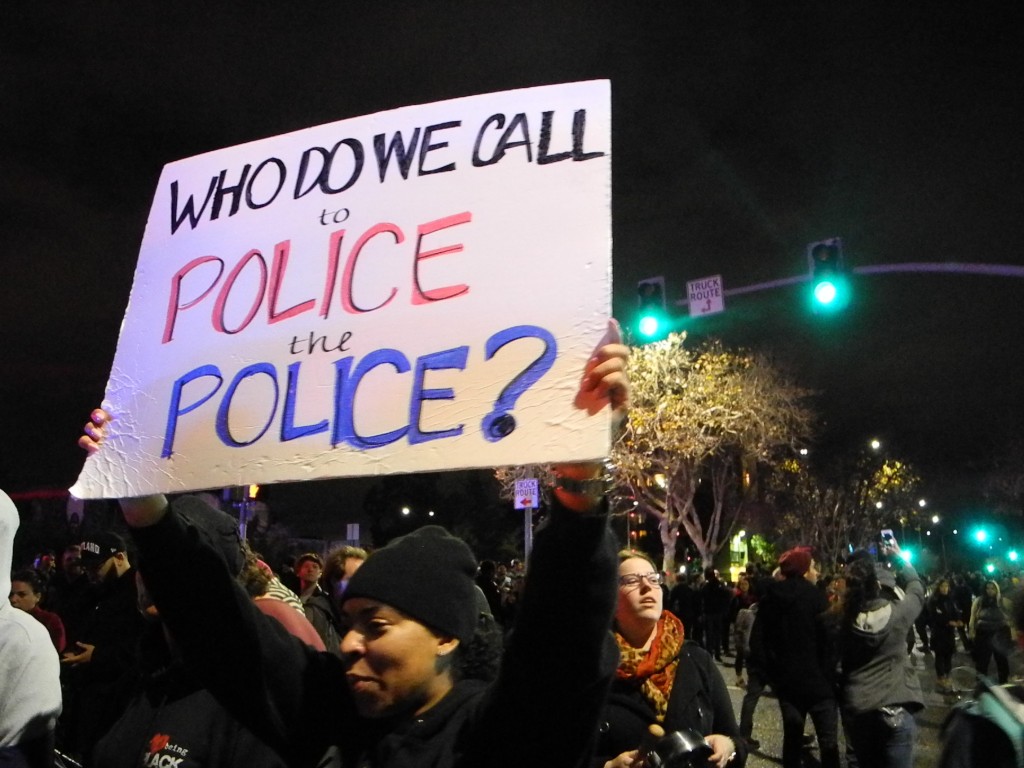 Contradictions in movement
The political message of the protests was both clear and contradictory at the same time: the police are violent and racist, Black lives in the United States are perpetually devalued, the criminal justice system is broken. Yet while there was a broad, basic consensus on the streets that what had happened was unjust, there was little unanimity about deeper political principles, demands, or any kind of general analysis of how particular incidents of racial violence were connected to broader structures of power.
To put it simply, the movement was constantly in contradiction with itself. This was exemplified by the popular chant:
Indict! Convict!
Send those killer cops to jail!
The whole damn system is guilty as hell!
The chant sparked many conversations on our nightly marches. If "the whole damn system was guilty," then why were we demanding that cops be sent to jail? How is demanding indictment compatible with a critique of prisons? Or, as one friend said to me, "I'm not sure about marching against police violence while also saying that we should use this system against certain people."
And the political disagreements were real. Many people thought that the police officers who killed Brown and Garner were simply "a few bad cops" who needed to be reprimanded. Others vehemently denounced such positions as a liberal fantasy that played into an ideological legitimation of the police. These disagreements are not new. What differed was the baseline consensus among the thousands of protestors: that the police unfairly target Black people and are part of a racist system.
There were also deep disagreements about tactics. At times I saw fistfights break out between self-identified pacifists and masked protestors breaking windows. Interestingly, such fights were most often started by the pacifists who took it upon themselves to try to "protect" the windows. There were shouting matches, people were shoved, pacifists who tried to photograph people breaking windows had their cameras taken and smashed. These disagreements often hinged on whether certain actions—such as smashing a Whole Foods or a police car window, dragging trash into the streets, spray-painting walls—should be described as "violent." The dispute often took the form of disagreements over what constituted nonviolent direct action. For those who actively resisted police arrests or tried to repel police lines with bricks and bottles, there was also the question of when and how violence itself is a legitimate tactic of protest and resistance.
These conflicts signaled deeper ideological fissures as anarchists, insurrectionists, liberals, and pacifists battled for legitimacy and power in the streets. But they also point to the history and legacies of Oakland and Berkeley. Oakland protests tended to be more confrontational, while those in Berkeley were often dominated by younger white liberals and the politics of the students who attend the university. Oakland, historically home to the Black Panther Party and currently home to a strong anarchist and social justice scene, remains a place where insurgent street politics are the order of the day. Berkeley's liberal politics, on the other hand, often manifested in a seemingly general understanding that "peaceful protest" was a kind of affective state of feeling "peaceful" or a behavioral quality of walking and speaking "peacefully." Being too loud or chanting confrontational slogans were seemingly interpreted as "violent." This bifurcation of protest cultures was made starkly clear one night in Berkeley when one group of protestors started chanting "Fuck the police!" and students quickly drowned them out by repeatedly chanting "Gandhi! Gandhi! Gandhi!"
The media also played an important role in these debates about protest tactics as outlets attempted to delegitimize the protests by calling them "violent" and putting forth a narrative of "good protestor" versus "bad protestor." Racial politics played into these debates as racial categories were equated with particular political ideologies in the media. Here a narrative of "white anarchists" who act violently and "peaceful" protestors trying to stop them threatened to equate people's politics to their race. This narrative (exemplified by an SF Gate headline that read "White voices dominate Bay Area protests of racial inequality") also threatened to erase the many (and majority of) non-white people who were leading protests and to delegitimize the movement as a whole, while also glossing over much of the nuance of the conversations, tactics, and politics playing out on the ground.
On the streets, such caricatures quickly broke down, and disputes were often fluid and changing, sometimes transformational. Every night there were productive discussions and embodied negotiations of legitimacy. Some storefronts were left untouched (a bike co-op window), while others were seen as legitimate targets (most often banks and chain stores but also gentrifying bike shops and cafes in historically Black neighborhoods). There were always disagreements about these actions, as some people understood them as necessary for creating an impact and others viewed them as senseless trashing of the city.
The protests marked an important moment of political education as people were, quite literally, learning while walking and thinking through issues while marching side by side. Important conversations—about what it will take to change the system, about the value and devaluing of Black life in the United States, about the role of police in maintaining a systemically racist social structure, about police reform versus radical alternatives to the police, about gentrification and who "belongs" in Oakland—took place amid burning dumpsters, in barricaded intersections, and on freeways during die-ins. And because protestors were using tactics of disruption that shut down whole cities, they made certain that they weren't the only ones talking about these issues.
---
Manissa M Maharawal is a doctoral candidate in Anthropology at the CUNY Graduate Center. Her PhD research focuses on social movements, urban change, youth, public space, and activism in New York City and the San Francisco Bay Area. Her work has been published in Cultural Anthropology, Progressive Planning, The Guardian, N+1, AlterNet, The Indypendent, Racialicious, Counterpunch, and Waging Nonviolence, among other online and print periodicals. She is currently a Public Humanities Fellow with the New York Council of Humanities.
All photos in this post are credited to the author.
---
Cite as: Maharawal, Manissa M. 2015. "Shut it down: Notes on the #blacklivesmatter protests in Oakland, California  – Part 1," FocaalBlog, February 23, www.focaalblog.com/2015/02/23/manissa-maharawal-shut-it-down-notes-on-the-blacklivesmatter-protests-in-oakland-california.