"Between the experience of living a normal life at this moment on the planet and the public narratives being offered to give a sense of that life, the empty space, the gap, is enormous." —John Berger
Estate: a reverie
Estate: one's home and money
Estate: a mansion or a plantation
Estate: order or class of a political community
Estate: landed property, especially in the countryside
Estate: property development, especially of new houses
Estate: property or possessions, especially of the deceased
Estate: state, period or position in life, especially with regard to wealth or social standing
I grew up on an estate in Munich (not the landed kind) in the early 1970s, during a time when the first large housing projects in Germany were spreading across greenfield sites and farmland on the outskirts of the city—the so-called Entlastungsstädten (meaning "unloading" or "relief" cities, where mainly immigrants were housed), before the city eventually grew around them and beyond. I lived in the eighteen-story Wohnring (living ring). The entire building circled a half mile of central space containing, initially, sheep and then, from 1976 on, a church and my primary school. My block was the orange one. This block was only allowed to have orange balcony umbrellas, and the blue block only blue ones, and the green block green. I think that was it for colors: there was no rainbow coalition here. Before the '74 FIFA World Cup, when the underground was built to serve that part of the city, it was by bus, tram, and train if you wanted to get anywhere. The local shop (there was only one then) was always out of milk and toilet paper (of all things). I remember my mother's constant frustration and anguish about these sorts of things and much else. My life at that time embodied what is now the stereotype of the typical estate dweller: the child of a single mother with a drink problem…
The London County Council (LCC) began to build the Haggerston estate (red brick "neo-Georgian flatted dwellings") in the 1930s—the last blocks were completed in 1948. This progressive social building replaced dilapidated tenements. For many inhabitants, these were the first residencies they had occupied that featured indoor toilets and hot running water. Once the Greater London Council (GLC) took over the management of public housing from the LCC, a consequence of its soon-to-be diminishing authority saw many council estates become perennially underfunded. Therefore, even before the GLC was dismantled in 1986, it had already begun to hand over management of its housing stock to local borough administration. In 1980 and '81 management of the Haggerston estate was transferred to the London Borough of Hackney, and thus began its rapid decline toward "sink" estate status. Less than a decade later, Haggerston became known as the "heroin capital" of Europe.
In the 1990s I moved into a top floor flat in Samuel House, on the Haggerston estate. The flat was sunny and faced the canal. I could not understand how anyone had turned such a flat down, or how it had come to be on the "hard to let" scheme, so I felt incredibly lucky. In 2007, a few months before the stock transfer vote that resulted in the shift of ownership of the estate to a housing association, the council boarded up the windows of all the already-empty flats on the Haggerston estate with bright orange boards. Again, I found myself living in the orange block.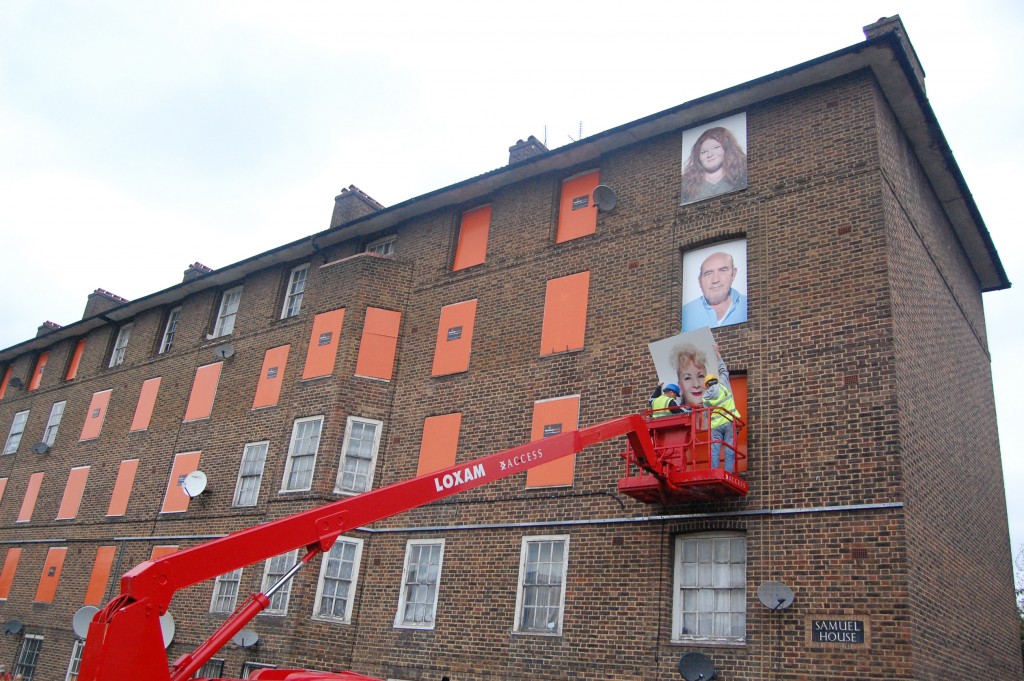 Photo and top featured image credit: Fugitive Images
There was a symbolic violence to that gesture. Living in a flat facing the canal, we could, from our open windows, overhear the stream of comments from pedestrians on the towpath. And we experienced firsthand how the estate had been turned into a bizarre tourist attraction, almost an early version of the "ruin porn" genre—evidence of the contemporary fetish for modern ruins, a local Detroitification that could be "enjoyed," without threat, between latte stops. Suddenly people photographed the estate, not for its beauty but for its abject quality. Orange as it was, the estate had turned into a projection screen for fears and prejudices about housing estates, and perhaps even more, about those living in them.
There was a need among the residents to resist these forces, to respond in some way to what seemed to be a narrative of inevitability, one that could have been said to have carried the hashtag "from bad to progress."
We—Fugitive Images—initiated a series of collaborative works on the estate, starting with the public art/photo installation i am here and the artists' book Estate: Art, Politics and Social Housing in Britain.1 The most ambitious outcome of project was the film Estate, a Reverie (2015, 83 minutes), which was made over seven years.
Estate, a Reverie speaks to and of a city long inhabited by a huge diversity of communities (whether focused around ethnicity, nationality, belief, gender, or sexuality and, not forgetting of course, financial, class, and vocational groupings), a territory whose identity is at stake within the unfolding and accelerating narrative of globalized gentrification or "development." It is a zone whose buildings, functions, and populations are being challenged by "incursionist" forces—of speculative capital, architecture, and commerce—that threaten the current spectrum of ways of being in this location. The film tries to make sense of a process that is regarded in public discourse as inevitable, one that declares public housing in its original sense to be dead, made obsolete by the market "choices" of a neoliberal world, one shaped by both finance and consumer capitalism.
Estate, a Reverie, an essay film, challenges conventional genre boundaries and seeks, rather, a heightened register of telling that is an explicitly collaborative one between professional practitioners and my neighbors. At times of significant social change, whether revolutionary or evolutionary, committed moving image documentary practice comes more than ever into its own, as perhaps the most literally and metaphorically "telling" of forms by which to engage both the subjects and themes of its enquiry.
Documentary filmmaking is also exemplary in its ability to prioritize those marginalized by the mainstream, as are the means it can employ to enable an open narrative space for individuals, communities and ways of being, becoming and belonging through long-term dialogue with its participants.
The subtly polemical way it can build its argument through enduring encounter—outside the template requirements of television production, whether in process or product—means that it offers time (the duration of shared experience) and space (the arena of its theme as well as the actual material environments of its content) as active components in its palette of tools. This combination, when allied to its specific role of advocacy, makes engaged social documentary among the most energized in contemporary moving image practice.
Surveying the making of Estate, a Reverie entails a telling of the various continuing collaborations, both with the participants in the film and those I have worked with over months and years in its production. The work emerged as a response to a lived experience: the film was made while the estate was suspended somewhere between the past and the imminent future, partly demolished and partly re-made, a denser than normal time, as it becomes only when loss is about to happen, like a fever dream, we dreamt, and sketched out what it could be, were it possible.
---
Andrea Luka Zimmerman grew up on a council estate in Munich and left school at age 16. After moving to London in 1991, she studied at Central Saint Martins College of Art and Design. Her PhD examined the relationship between spectacular (Hollywood) and spectral (covert and special military operations) representations of political violence. She won the 2014 Artangel Open award for her collaborative project Cycle with Adrian Jackson (of Cardboard Citizens). Her feature essay film Taskafa, Stories of the Street (2013, 66 minutes)—about resistance and co-existence and voiced by John Berger, from his novel King—is told through the lives of the street dogs of Istanbul.
---
Note
1. i am here was made by Andrea Luka Zimmerman, Lasse Johansson, Tristan Fennell, and the fellow residents of the Haggerston estate. Estate: Art, Politics and Social Housing in Britain is published by Myrdle Court Press (2010).
---
Cite as: Zimmerman, Andrew Luka. 2015. "Estates of being: Thoughts on the place of living and working," FocaalBlog, April 23, www.focaalblog.com/2015/04/23/andrea-luka-zimmerman-estates-of-being.